Donald Braswell II Biography

Donald Braswell II (born February 22, 1963) is an American actor, classical crossover tenor and composer. Braswell was on a fast track to become an internationally acclaimed opera singer when he suffered a car accident in 1995 that made him unable to speak for almost two years. After that, he had lived a quiet life outside of the spotlight until his appearance on the 2008 season of America's Got Talent where he was a Top 5 finalist, which gave him another chance at a career in entertainment. Since then, he has entertained audiences both internationally as well as shore to shore in the United States in concerts, television appearances, inspirational speaking and radio. He boasts an international fan club with fans from over 25 countries.
Braswell has reentered the world of symphonic music by singing in pops concerts starting with the Symphony of the Hills in Kerrville, Texas in June 2009. He performs a variety of musical genres ranging from pure classical repertoire to soul to mainstream pop. He engages people of many cultures by singing in various languages outside of English, including Spanish, Italian, Neapolitan, French and Russian. His concerts are generally multilingual, and he has performed pieces that are themselves in more than one language. Some of these include: Mario Frangoulis bilingual version of "Nights in White Satin" (Italian title "Notte di luce"), originally by The Moody Blues; "The Prayer"; and Andrea Bocelli's "Vivere" (English title "Dare to Live"). His other non-English repertoire includes Aqustin Lara's "Rosa" (Spanish), Mario Frangoulis's "Vincerò, perderò" (Italian) and the Neapolitan standard "O sole mio".
Donald is a testament to the powers of the human spirit in difficult times and he inspires all who come to know him.
CHILDHOOD AND EDUCATION
Donald Braswell, a native of Texas, is the youngest of four children of Donald and Jane Braswell (née Jane House). He grew up near Boerne, Texas, a town just north of San Antonio. His parents were Broadway performers, and he has displayed an interest in theater and music since childhood and aspired to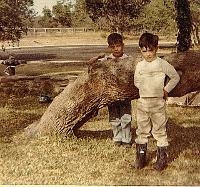 become an actor. As a child, he often performed with his family, and described the theatrical arts as something that felt natural to him. While in high school, he would participate in local theater groups at night without telling anyone; he preferred not to display his "aesthetic side."
Following graduation from Boerne High School and a summer working at Six Flags, Braswell attended Tyler Jr. College from 1981-82 and the University of Texas San Antonio from 1982-83. His love of acting drove him to New York City during 1983-84 to study at Lee Strausberg and the HB Studios and took private voice lessons with Marnie Nixon (who was the singing voice for people like Deborah Kerr in the King and I and Natalie Wood in West Side Story.
Even the pull of Broadway in New York City couldn't compete with the real passion of his life, Julie Clayburne. He moved back to Boerne, TX to be with her, where he worked at the haunted Ye Kendall Inn (1984-86) as a singing waiter and boasted making the best table-side Steak Diane. Having met at age 11 and in love since 15, Julie and Donald were married on May 25, 1985. Julie persuaded him to apply to the Juilliard School in New York City. He did it only to humor her; however, he was not only accepted but also awarded the prestigious Enrico Caruso scholarship. His audition was in the spring of 1986 and was enrolled in the Fall that year. There, he began his professional training as an operatic tenor under the tutelage of Enrico Di Giuseppe. He graduated four years later in 1990.
Photo: Braswell (front) with his brother Claiborne.
EARLY CAREER
Braswell in the early 1990's during his opera career.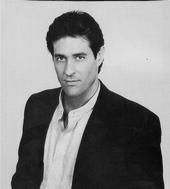 After graduating Juilliard, he was privileged to study under Franco Bertacci, who most recently was Artistic Director of the Lyric Theater Orchestra in Florida. Of Bertacci, Braswell says he was "the teacher that I give most credit to for the development of my voice." Donald was selected as one of the winners of the Liederkranz Foundation Vocal Competition and he performed at Alice Tully Hall in Lincoln Center.
He also received a grant from the Puccini Foundation (now the Licia Albanese-Puccini Foundation) where he was a sponsored artist of Mm. Licia Albanese and the renowned Primo Tenore Franco Corelli enabling Donald to perform at the Grand Ballroom of the Plaza Hotel. He was honored to study with the great "Prince of Tenors", Corelli, in NYC. He recalls that Corelli showed his students how music creates itself from within a singer.
First Columbia Artist Management and then Herber Barrett Management managed his professional engagements. During his career as a professional premier operatic tenor, he played many leading roles around the world, including roles such as Arturo in La Straniera by Bellini, Rinuccio in Gianni Schicchi by Puccini, Luigi in Il Tabarro by Puccini, Pinkerton in Madame Butterfly by Puccini, Turiddu from Cavalleria Rusticana by Mascagni, Cavaradossi in Tosca by Puccini, Roméo in Roméo et Juliette by Gounod, Rodolfo in La Bohème by Puccini, Il Duca in Rigoletto by Verdi, Edgardo in Lucia Di Lammermoor by Donizetti, Lancelot in Le Roi Arthus by Chauson, Fritz in L'amico Fritz by Mascagni, Faust in Faust by Gounod, Don José in Carmen by Bizet, Alfredo in La Traviata by Verdi, Tamino in The Magic Flute by Mozart, Andrea Chenier in Andrea Chenier by Giordano and Nemorino in L'elisir d'amore by Donizetti.
These performances took him to leading operatic theatres around the world. He was regarded as a very successful artist, earning praise from the Annuario dell'opera lirica in italia, an annual Italian opera journal.

Donald was also a regular featured guest artist of Stephan Zucker's late night radio program in New York.
He was on a fast rocket to international stardom until tragedy struck.
CAR ACCIDENT AND AFTERMATH
Braswell as Pinkerton in Madame Butterfly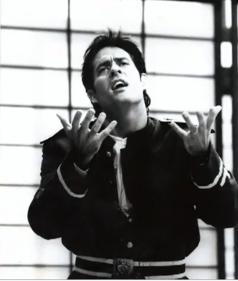 Donald's operatic career ended abruptly in the fall of 1995. While performing with Welsh National Opera in their tour of Madame Butterfly in Wales, Mr. Braswell was struck by a car while riding a bicycle which resulted in catastophic injuries to the soft tissue in his throat. He was told by medical professionals that he would never sing again and possibly would have difficulty ever speaking normally. He was unable to speak for a long period of time.
When he was once again able to make sounds, he began using the Bertacci vocal techniques and other training that he had learned, diligently working to regain the use of his speaking voice and eventually his singing voice as well. As his voice strengthened, his church encouraged him to sing there, and later he began testing his returning vocals with local community productions.
Mr. Braswell had defied predictions and began to sing again in the year 2000 with a debut with the San Antonio Symphony. He earned a the lead Lancelot in the cast of Camelot in the beautiful Majestic Theatre with the Symphonies Pop Series. The next year he had the lead in Kismet with the symphony again. He performed with the San Antonio Three Tenors in small shows in shopping malls and elsewhere, when they need a replacement singer. It was at one of these that a fan convinced him to make a CD, titled New Chapter (released in 2007). Braswell has also appeared in The Life of David Gale, Resurrection, As the World Turns, One Life to Live and Miss Congeniality. In Miss Congeniality, he played the dermatologist of Gracie Hart; however, the scene was cut from the final production to trim the length of the movie.
All of these performances were extracurricular hobbies for Donald, while he held down full-time jobs to make ends meet. His first daughter was born a two years after the accident and two more daughters came in the years during his recovery.
America's Got Talent (AGT)
In 2007, unbeknown to him, Braswell's wife submitted an audition tape to NBC's America's Got Talent. In September of that year, Braswell received a call from the show's producers for a live audition. Having endured years of believing he would never sing again, he suddenly had the possibility of giving his three daughters a glimpse of their father performing once more on a professional stage with all the lights and cameras he had experienced in his early career. During the preliminaries, he performed "You Raise Me Up" by Rolf Lovland and Brendan Graham. Initially, the audience was hostile, collectively shouting to get him off the stage. During the second refrain of the song, however, Braswell was able to turn the audience's reaction around and when he finished, the audience gave him a standing ovation, even chanting "Vegas!" in unison, expressing their support for his advancement to the next round in Las Vegas.
In Las Vegas, he was eliminated by the judges, keeping him from joining the Top 40. The day before the first audition aired, Braswell appeared on the Today Show where he gave an interview about his past and how he came to audition for America's Got Talent. However, when the Russian Bar Trio suffered an injury and had to withdraw from the competition, the judges chose eight of the eliminated acts for a chance to become the wildcard act. Viewers then voted for their favorite act, thus bringing Braswell back into the competition.
Upon returning to the competition, he continued to advance every week until he won a spot in the Top 5 (out of over 250,000 contestants). There, he once again performed his original audition piece, "You Raise Me Up." One week later, he won fourth place. Before the final places were announced, pre-recorded videos were shown of various celebrities' support for their favorite acts. In these videos, Andrew Lloyd Webber congratulated Braswell on his performance of Lloyd Webber's composition "The Music of the Night" from The Phantom of the Opera and stated that he would love to work with Braswell some day. On October 17, 2008, Braswell joined the Top 10 finalists from America's Got Talent to perform at the MGM Grand Garden Arena. There, he did another rendition of "You Raise Me Up" and stepped out of his previous genres into the vocally challenging standard, "Unchained Melody", which he dedicated and sang to his wife who was in the audience.
Current Career
Braswell with the Symphony of the Hills.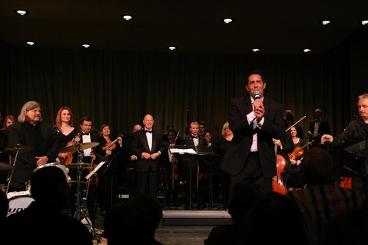 Now hitting his stride, Donald has become a well-rounded entertainer performing in concerts, television and radio throughout North America. His performances are sprinkled with comedy and dance moves to the delight of audiences. His first album, New Chapter, went international when it was embraced by executives at Canoe FM radio based in Haliburton, Canada, where it has been broadcasting since February 2009. He dusted off compositions he began while mute after the accident and combined them with new compositions in an original album, We Fall and We Rise Again, with partner/composer Anthony Bazzani, including a tribute to composer Ennio Morricone with their composition, "Ennio". He also honors his opera days with his rendition of "Nessun dorma", as well as songs dedicated to his wife.
Braswell has stated that he hopes to use his talent to help others. His desire is to use his story to inspire people, as when he appeared on the inspirational radio show "Achieving the Extraordinary" with Ron Graves. He has performed at many charity events and has even put on concerts with the sole purpose of raising funds for those in need. In 2009, for example, he and his family participated in four concerts with San Antonio Metropolitan Ministries (SAMMinistries), proceeds of which went to benefit the homeless of San Antonio. At the first of these concerts in January, he introduced his original composition "Look at Me", written during the time that he could not speak. He would eventually dedicate the song to people with other struggles, with hopes that the words can help them as well.
In 2011 Braswell finished another collaboration with Bazanni in his album "Unchained". In this album he did a broad genre selections of standards like those he sang at his Las Vegas Hilton show: "Unchained Melody", "Notte di Luce (Nights in White Satin)", "Sway", "Time To Say Goodbye (Con Te Partiro)", "You Raise Me Up" and "Sogno". This was paired with other songs: "Caruso", "Se (Cinema Paradiso)", "Wind Beneath My Wings", "Rosa", "Nature Boy", "Here's to the Heroes", "Time To Say Goodbye (Con Te Partiro)" and Braswell's composition "Say I Love You!".
Braswell was honored to have his next album "The Traveler's Tale" produced, directed, and composed by Mark Neidzweidz, a platinum disc awarded songwriter/composer, formerly signed to MCA and Universal music. Artists that have recorded/sung his tracks include - Ennio Morricone - LeAnn Rimes - Katherine Jenkins - Matt Dusk - Ronan Keating - international Pop Idols. This album came out in 2014.
2015 was also a banner year for Braswell who worked with author Mark Koopman's to create and publish (Pen-L Publishing) his memoir, "Revival - How a Tenor Lost His Voice, but Found His Calling".
See his events calendar for more information.
Braswell singing with the Symphony of the Hills, June 27, 2009.
Albums
2007: New Chapter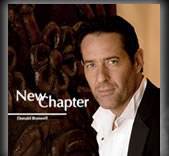 In May 2007, Braswell released his first studio album, New Chapter. The album contains Pop Standards, renowned classics from musical theater, and pieces from the classical and sacred repertoire.
2010: We Fall and We Rise Again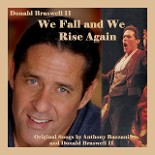 We Fall and We Rise Again is a collaboration with composer and arranger Anthony Bazzani. This album contains original compositions and Braswell's interpretation of Puccini's "Nessun dorma" from Turandot. Barnes and Noble hosted a CD premiere event on March 6, 2010 for the national launch of the album.
2011: Unchained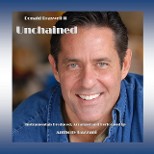 Unchained is another collaboration with composer and arranger Anthony Bazzani. This album contains known standards .Barnes and Noble hosted a CD premiere event on October 3, 2011 for the national launch of the album.
2011: The Traveler's Tale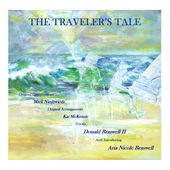 The Traveler's Tale is an inspirational album produced and composed by Mark Neidzweidz, a platinum disc awarded songwriter/composer, formerly signed to MCA and Universal music. Artists that have recorded/sung his tracks include - Ennio Morricone - LeAnn Rimes - Katherine Jenkins - Matt Dusk - Ronan Keating - international Pop Idols.
2015: Revival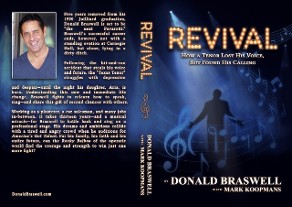 Revival is a biographical collaboration between Donald Braswell and author Mark Koopmans. The tell the story of Donald's rebuilding his career after the tragic accident in Wales took his voice away.